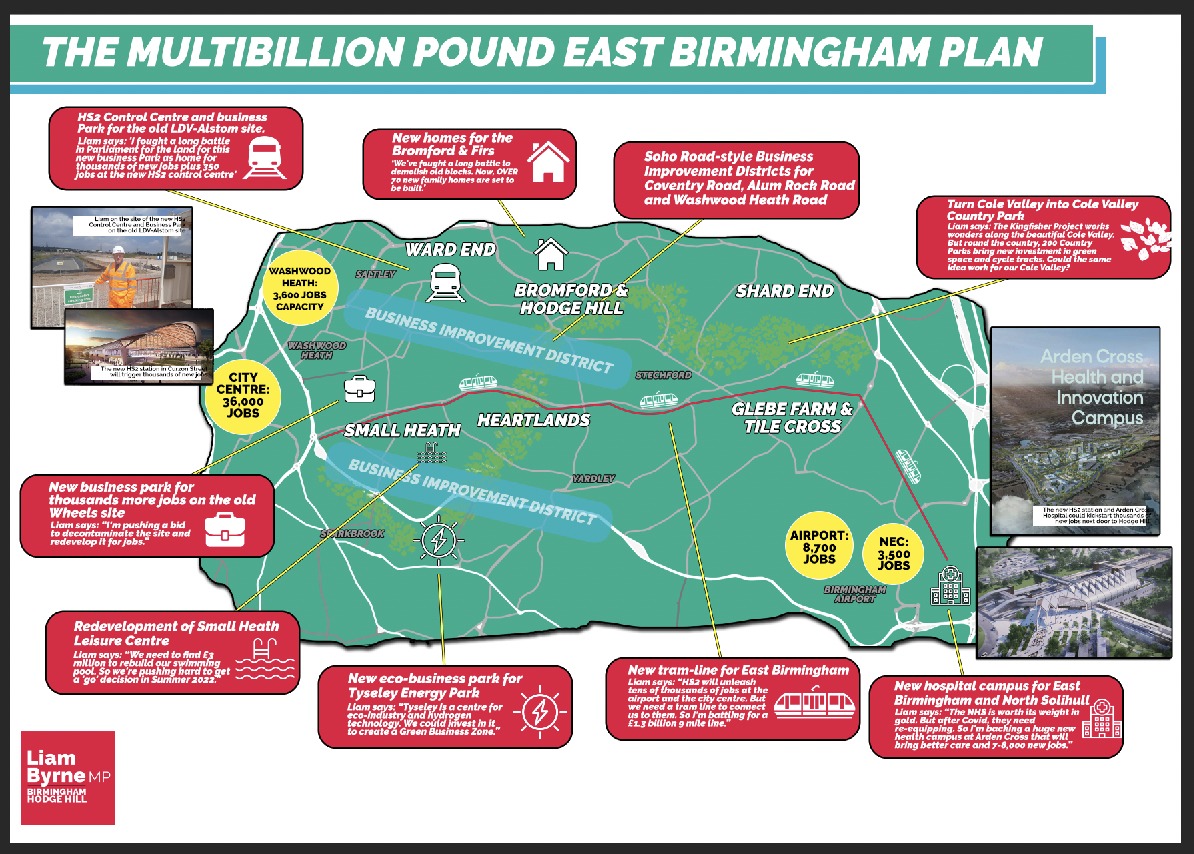 East Birmingham Green Inclusive Growth Taskforce
Liam is honoured to chair the East Birmingham Inclusive Growth Board on behalf of the city.
East Birmingham is home to over 240,000 people. But it is also one of the most deprived places in the country, where more than 25,600 people claim employment benefit.
Covid-19 hit us hard. And many people struggle with ill health, face poverty and difficulty getting around.
But that could change.
The new HS2 will revolutionise east Birmingham and with a proposed Midland Metro extension to Solihull, the NEC Masterplan and a huge new health campus at Arden Cross, we have a unique opportunity to transform East Birmingham.
The Council has a 20-year strategy to make the most of this opportunity to regenerate the area, helping local people to benefit from the creation of over 60,000 jobs and 10,000 new homes over the next decade, and providing better access to education, public transport and health services.
These changes could bring thousands of jobs to eastern Birmingham - but we've got to make sure those jobs are within reach of residents who currently live in some of our poorest wards.
My goal is simple: East Birmingham residents must have their fair share of the economic growth that's set to arrive.
The London Olympics transformed east London. We need HS2 to transform east Birmingham. That won't happen by magic. It'll need a plan. And after years of pushing for this I'm honoured to help lead the drive for the years ahead.
Here's the announcement of the Board: https://www.birmingham.gov.uk/news/article/921/business_case_for_east_bi...
Here's the background prospectus:
https://www.birmingham.gov.uk/info/20054/local_plan_documents/2048/east_...
https://www.birmingham.gov.uk/download/downloads/id/19118/east_birmingha...
Key papers